Plan your next event with us!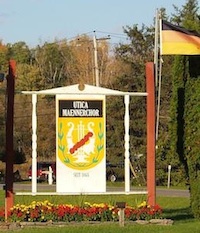 Facility Rental and Catering Brochure
Willkommen!

Vielen Dank für den Besuch der Website Utica Maennerchor. Wir wünschen Ihnen viel Spass als Sie unserer Weblage stöbern für die neuesten Nachrichten, Veranstaltungen, Fotogalerie und erfahren Sie mehr über unseren Anfang.
Im Jahr 2015 feiern wir unser 150-jähriges Jubiläum. Wir danken unseren deutschen Einwanderen und Vorfahren für die Erhebung der Liebe zur Musik, Tradition und Kameradschaft zu dieser Gemeinschaft so lange her. Unsere Organisation wurde gebildet um unsere Kultur für zukünftige Generationen zu erhalten. Es war und ist immer noch durch harte Arbeit und die Leistungen der vergangenen und gegenwärtigen Mitgliedern erreicht.
Wenn Sie Deutscher oder Nicht Deutscher seien, wir würden wir uns freuen, Sie in unsere Maennerchor Familie aufzunehmen.
Welcome!
Thank you for visiting the Utica Maennerchor website. We hope you enjoy browsing our site for the latest news, events, photo gallery and learn about our early beginnings.
In 2015 we will be celebrating our 150th anniversary. We thank our German immigrants and ancestors for bringing the love of music, tradition and fellowship to this community so long ago. Our organization was formed to preserve our culture for future generations. It was and still is accomplished through the hard work and dedication of past and present members.
If you are German or non-German, we will be happy to welcome you into our Utica Maennerchor family.
Upcoming Events
Sauerbraten Dinner
Sunday, April 19, 2015
| | |
| --- | --- |
| Join us for a delicious, traditional German sauerbraten dinner at the Utica Maennerchor on Sunday, April 19, 2015 from 12pm-4pm. In addition to sauerbraten, we'll be serving noodles, red cabbage, rolls, salad, dessert and coffee. Beverages will be available for purchase. Cost is $12.00 for adults and $6.00 for children under 12. For more information, please call the club house: 735-5882. | |
Volkswagen Jetta S Raffle
Drawing: October 6, 2015 (or when all tickets sold)
| | |
| --- | --- |
| To commemorate the Utica Maennerchor's 150th anniversary, we're raffling a 2015 Volkswagen Jetta S. A total of 1,250 tickets will be sold at the cost of a $30 per ticket, or two tickets for $50.00. To purchase a ticket, please download the flyer, complete the bottom portion, and send it in with your payment. You may be driving a new Volkswagen Jetta S before the end of 2015! | |
Visit our Gallery for more pictures!
The Cake Booth at our annual Bavarian Festival
held the 3rd weekend of July.
Our entertaining dance ensemble
Edelweiss Schuhplattlers