Plan your next event with us!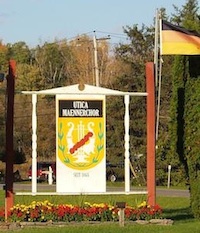 Facility Rental and Catering Brochure
Willkommen! / Welcome!

Thank you for visiting the Utica Maennerchor website. We hope you enjoy browsing our site for the latest news, events, photo gallery and learn about our early beginnings. Whether you are German or non-German, we are happy to welcome you into the Utica Maennerchor family.
Vielen Dank für den Besuch der Website Utica Maennerchor. Wir wünschen Ihnen viel Spass als Sie unserer Weblage stöbern für die neuesten Nachrichten, Veranstaltungen, Fotogalerie und erfahren Sie mehr über unseren Anfang. Wenn Sie Deutscher oder Nicht Deutscher seien, wir würden wir uns freuen, Sie in unsere Maennerchor Familie aufzunehmen.
Upcoming Events
Grillin' & Chillin' Picnics
Wednesdays during the summer
| | |
| --- | --- |
| Starting Wednesday, July 29th from 5:30 - 8 p.m., the Club will be hosting family picnics in our backyard pavilion. They will be held each Wednesday through the end of August. A variety of picnic foods including hot dogs, burgers, steak sandwiches, wurst, clams, veggies, drinks and desserts will be served at a cost from $2.50 - $8 depending on your selections. We invite families and friends for a relaxing evening while supporting your Club. Please join us! | |
Volkswagen Jetta S Raffle
Drawing: October 6, 2015 (or when all tickets sold)
| | |
| --- | --- |
| To commemorate the Utica Maennerchor's 150th anniversary, we're raffling a 2015 Volkswagen Jetta S. A total of 1,250 tickets will be sold at the cost of a $30 per ticket, or two tickets for $50.00. To purchase a ticket, please download the flyer, complete the bottom portion, and send it in with your payment. You may be driving a new Volkswagen Jetta S before the end of 2015! | |
News
We just completed our 150th Anniversay year Bavarian Festival. A big thank you to all who came and all who volunteered. Hope you all had a great time enjoying the food, music and a bit of German culture!
The 2015 Saengerfest:
Congratulations to our men's chorus who took first place in the Saengerfest competition held at Whitesboro High school on Saturday, June 13. Our combined men's and women's choruses came in a very close second. See the picture below of the Saengerfest concert held on Friday, June 12, featuring a combined chorus of singers from Binghamton, Buffalo and Utica, NY.
UMC WI-FI CAFÉ:
Are you looking for something to do on a warm summer evening or someplace to go? Join us at the cool UMC Wi-Fi Café for a game of shuffleboard, watch your favorite team play ball on our big screens, or spend the evening catching up on your email correspondence, Facebook, Twitter or other accounts. We're convenient, especially if your local library doesn't have evening hours. Wings and other finger foods are available at the bar.
Visit our Gallery for more pictures!
| | |
| --- | --- |
| | |
| Two of our young dancers in front of The Cake Booth at our 2015 Bavarian Festival. | The mass concert of the 2015 Saengerfest, held at Whitesboro High School in Marcy, NY. Conductor, Susan Sady |